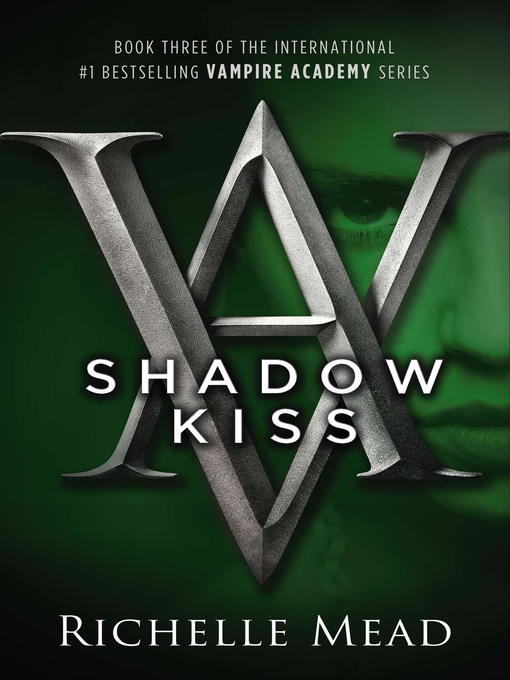 While Rose is coping with the darker effects of being shadow-kissed, her relationship with Dimitri is finally taking off, and when he disappears during a Strigoi attack on St. Vladimir's Academy, she must make a terrible choice.
Searching for more content…
Publisher:
New York : Razorbill, c2008.
ISBN:
9781440697142
1440697140
9781440697180
1440697183
9781440697173
1440697175

Branch Call Number:
ELECTRONIC RESOURCE
Characteristics:
444 p. ; 21 cm.
---
Opinion
From the critics
---
Community Activity
Summary
Add a Summary
Kadie2 Aug 17, 2012
Rose Hathaway, studying the dark bond between her and her best friend (shadow kissed) has finally gotten her romantic relationship right where she wants it with her trainor, Dimitri Belikov. When there's an attack and Dimitri goes missing, Rose is faced with making heartbreaking decisions for the ones she loves.
Shadow Kiss completely wrapped its every last word around me and choked me silent with anticipation every turn of a page. Rose has finally realized that there is a bigger meaning to being "shadow kissed" then just sharing a powerful bond with her best friend. In this realization, changes start to surround her in a negative way.
She starts to question her life, her relationships, and her supposed delusions. In conclusion, even without having all the answers, one thing is unquestionably certain, her unconditional love and devotion to Dimitri and later she learns that the feeling is utterly mutual. Two halves to make the most beautiful and perfect whole.
Protecting Moroi always comes first, as is the dhampir motto. During the heat of battle and finding the whereabouts of the enemy by way of a dear friend who had since past. Things spiral downward and never stop until it reaches complete darkness.
I have been weeping for a few days every so often I ponder about the book. Always thinking of how things could have been different if only they may have taken the opposed approach; but since Rose's maturity and discipline has risen way beyond her years, it seems the only explanation is that it was just meant to be the way it proceeded, how ever morbidly devastating it was. Anxiety and depression has set in as the wait for what Ms Mead will throw at us next. My heart is bleed for this book. Yet I could never get enough. The series gets better and better.
Mild Spoiler below*****
The love scene between Rose and Dimitri was kinda disapointing. On one hand, I was very happy that they got together, but it was all very bland. I didn't feel any passion, despite being told it was passionate and loving and wonderful...but that's just it, we were TOLD that it was passionate instead of describing how Rose was unable to control herself, how she may have moaned or how Dimitri may have goaned. Things like that let us understand the passion. It's like this line sums it up perfectly: "I wish I had the words to describe sex, but nothing I can say would really capture how amazing it was."
Well, I wish she would have found the words. I didn't want it to be erotica. I understand that this is YA, but it could have had more passion. Maybe Mead isn't comfortable writing that kind of stuff and that's fine, it just left me wanting more
Quotes
Add a Quote
There are no quotes for this title yet.